Schools, businesses, families, governments, and more around the world are racing to find the right tools that can best help fight against COVID-19. While it is unlikely there will be a single "magic bullet" solution, and all health and safety protocols emphasize the importance of continuing to wear masks and practice social distancing, there has been increased discussion over additional ways to help mitigate and reduce the risk of transmission of the virus, including using air purifiers.
Independent testing has recently been conducted to specifically test iWave air purifiers against the coronavirus. Here are the results.
TESTING SHOWS REDUCTION IN CORONAVIRUSES INCLUDING SARS-COV-2
The iWave line of air purifiers includes several models, all of which are installed inside commercial or residential ductwork (or even inside the air handlers of ductless mini-splits). Two of these purifiers, the iWave-C and the iWave-R, were tested by an independent lab and, according to the manufacturer, were shown to "significantly reduce a wide variety of pathogens in the breathing zone and on hard non-porous surfaces":
In the testing for SARS-CoV-2 (the virus that causes COVID-19), the iWave-C was shown to inactivate 84.2% of the virus after 10 minutes of operation, 92.6% after 15 minutes, and 99.4% after 30 minutes.
In the testing for Human Coronavirus 229E (one of several coronaviruses responsible for the common cold), 90% of the virus was inactivated after 60 minutes.
It's important to note that having an iWave air purifier in your home or business isn't a guarantee that your air will be free of the novel coronavirus. We strongly urge you to continue to follow all local and national health and safety guidelines. Instead, think of installing an iWave as offering you an added layer of protection during this global pandemic.
The Additional Indoor Air Quality Benefits of an iWave Air Purifier
iWave air purifiers aren't just a potential tool to fight against the coronavirus—their ionization technology kills off or reduces a number of other indoor air pollutants, including: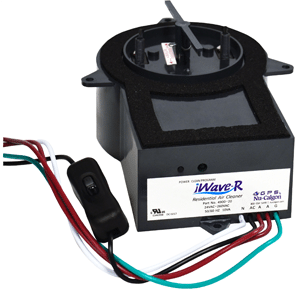 Mold

Bacteria and viruses

Allergens

Smoke
One of the major benefits of iWave devices compared to portable air purifiers is that they can be used as whole-home solutions. Every time that your HVAC system is running and circulating air through your home, your air purifier for mold, allergies, and viruses will be working hard to make your air cleaner. Instead of installing multiple portable purifiers throughout your house and having to constantly move them around and find out-of-the-way locations to place them, the iWave is completely hidden away and 100% silent—you won't even know it's there!
Help Improve the Air in Your Home with Kearney HVAC
Viruses are on everyone's mind at the moment, but those are far from the only health concerns that can be found in the air inside your home. At Kearney HVAC, our team of HVAC and indoor air quality experts can help you reduce indoor air pollutants, providing you with peace of mind and a healthier home. From air purification to whole-home humidifiers and dehumidifiers, we'll work to find the right solution for your North Shore or Seacoast house.
Looking to learn more about COVID-19 air purification? Call 978-388-0845or contact us today and talk to a member of our team.