Your home heating and air conditioning system can account for nearly half of your home's total energy use. Having a properly designed and installed cooling system will have a big impact on your energy expenses and home comfort. From Salisbury and Newburyport to Georgetown, Amesbury, and beyond, many of our customers are thrilled by the exceptional comfort they experience when installing a new Bryant central air conditioner or ductless mini-split system.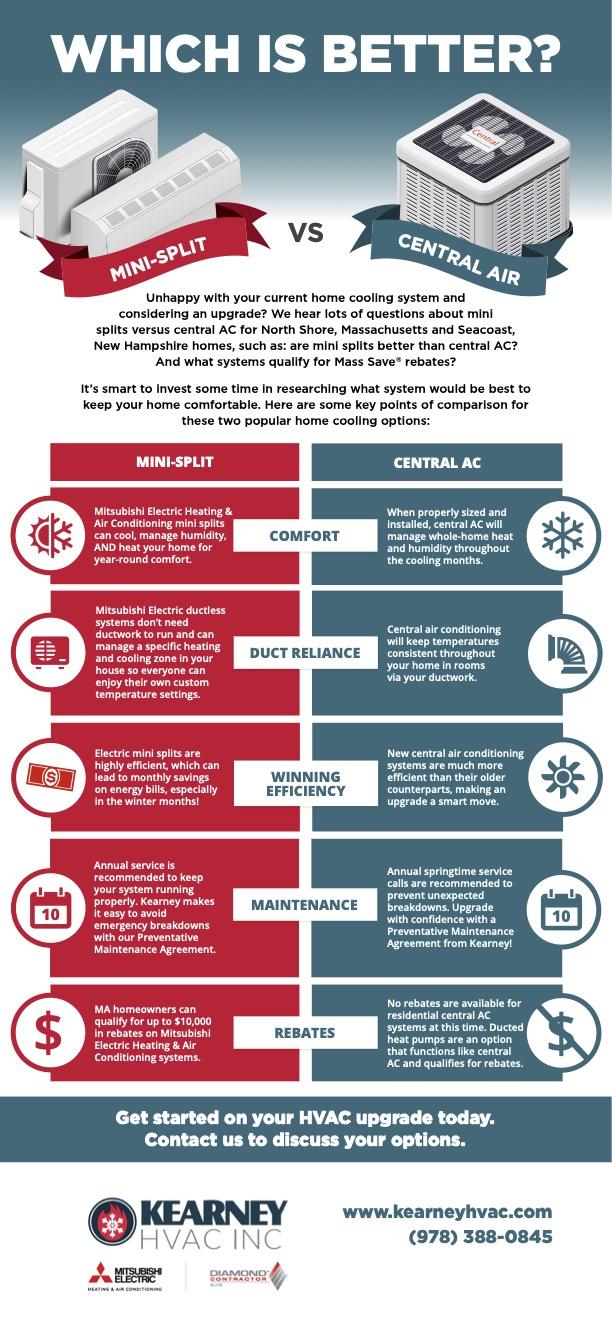 Free In-Home Consultation
We begin each new AC installation with an in-depth consultation with one of our HVAC specialists. As a small, locally-owned company, we take pride in delivering personalized attention and exceptional customer service with every AC installation project.
Save Energy With an Efficient AC Unit
Kearney HVAC offers a variety of cooling solutions that fit to your lifestyle and comfort preferences. We offer a variety of high-quality, energy efficient central air systems that are great for both your pocketbook and the environment.
Cutting-Edge Technology for Innovative Home Comfort
Recent advances in technology are enabling exceptional home comfort. We now install Bryant air conditioning systems with advanced communication capabilities that give you greater control of temperature, humidity, and indoor air quality. These systems even notify you when a new air filter or service is needed.
Proper System Sizing for Exceptional Comfort
Many air conditioning systems aren't properly sized. Undersized systems may not be able to keep your home comfortable during Essex County, Massachusetts or southern New Hampshire heat waves. An oversized system, on the other hand, is likely to use too much energy and not properly dehumidify your home.
Our HVAC experts conduct load calculations and take the unique needs of your home into account to ensure proper cooling system sizing. This extends the life of your equipment, saves energy, and promotes indoor comfort.
Full Factory Warranties on All Equipment and Labor
We offer exceptional warranties on all new Bryant central air systems. These warranties protect your investment and offer peace of mind.
Rebates & Financing Make New AC Systems Affordable
Many of our Massachusetts customers qualify for the Mass Save rebate and financing program. This lowers the upfront cost of energy efficient cooling systems and can even make 0% interest loans available to our customers. We'll help walk you through the simple application process.
At Kearney HVAC, we understand how important it is to have a properly functioning AC system. From Essex County, Massachusetts to southern New Hampshire, we take pride in ensuring that your home is comfortable throughout the year.
Want exceptional home comfort this summer? Call Kearney HVAC to schedule a free in-home consultation!