When you visit the Kearney HVAC showroom in Salisbury, you won't just be getting face-to-face with some of the best heat pump technology available — you might also get face-to-snout with our showroom dog, Leroy!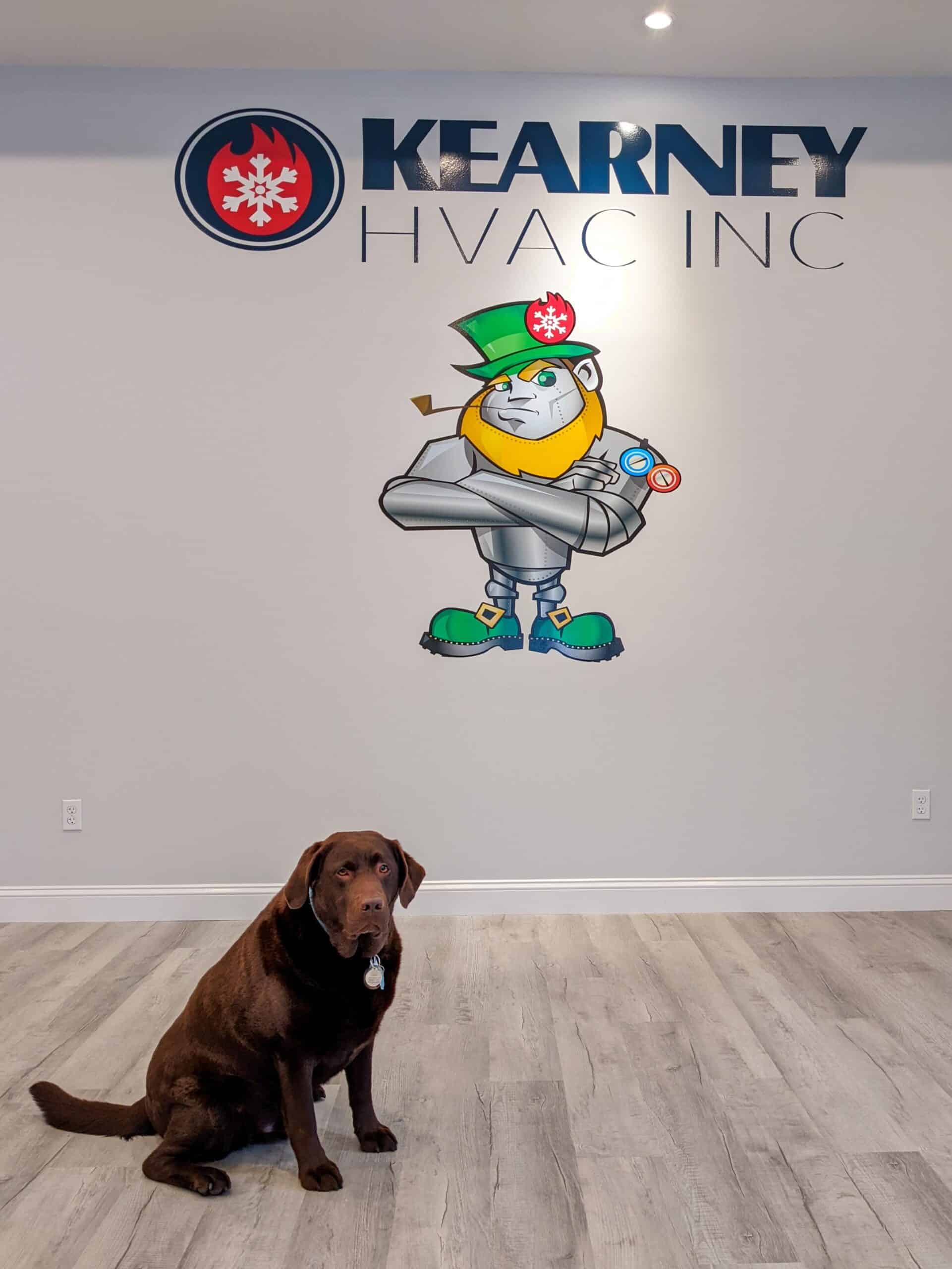 Leroy greets every Kearney employee each morning, loves to lounge around while homeowners browse out many options of heat pumps, controls, and configurations, and loves swimming in his free time.
Test the Look and Feel of Your Next Heat Pump
At Kearney, heat pumps are what we do. We crafted this new showroom to give homeowners an opportunity to experience the best in heat pump technology, without just looking at a manufacturer's catalog — because we think it makes a big difference! Here's why.
Compare Heat Pumps Sizes and Models
Even if you know the dimensions of a heat pump, there is no substitute for seeing how it will look mounted on a wall. This allows better visualization in your own home, so you can make a decision with confidence that you know how it will look after installation.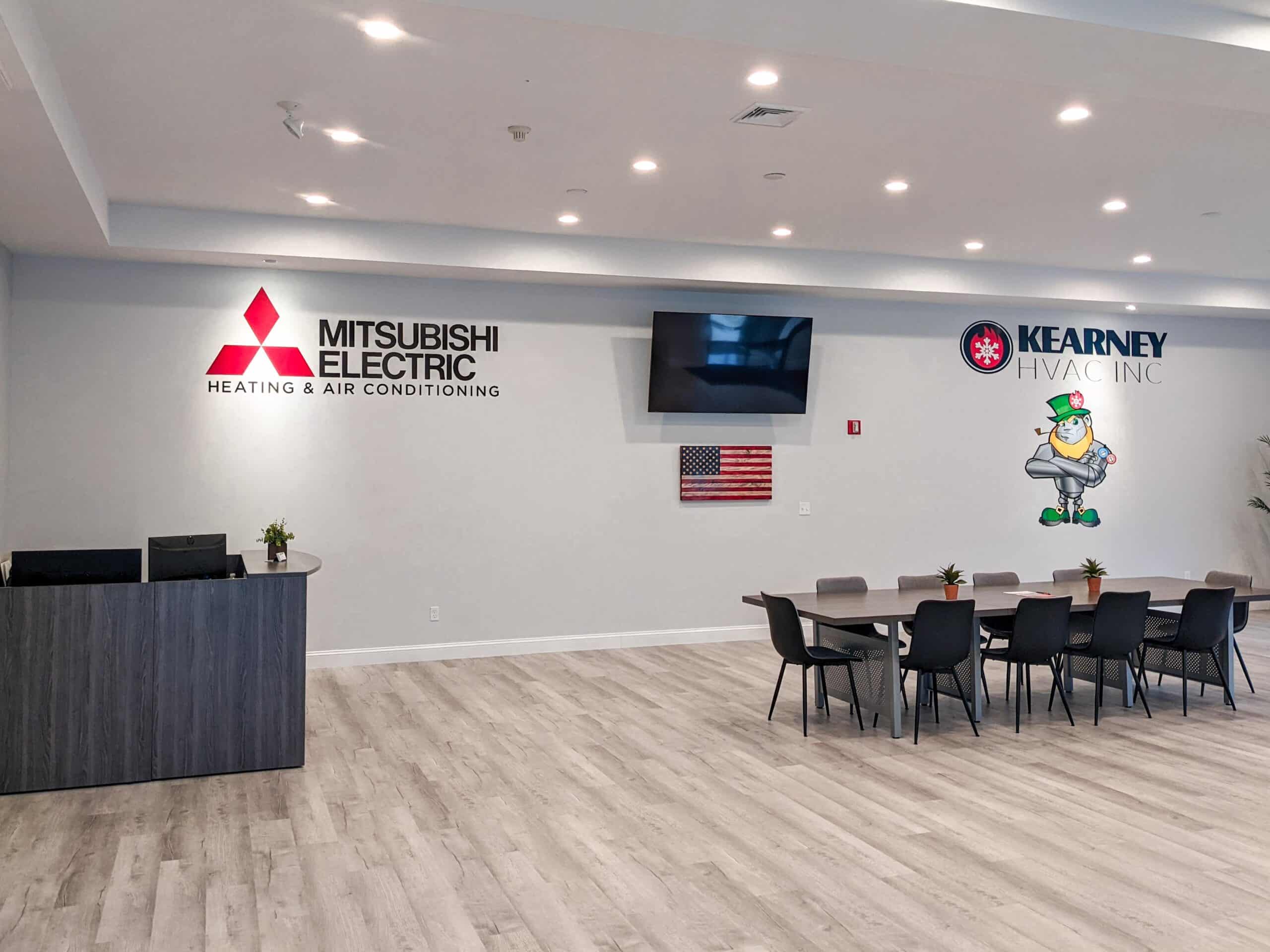 Models Currently on Display:
You can see the following Mitsubishi Heat Pump models in the Kearney HVAC showroom: MLZ-KP, MSZ-GL, MSZ-EF, MSZ-FS, PVA, MFZ-KJ, MXZ-4C36, MXZ-3C30, MUZ-FS, SUZ, PUZ
Hear How Quiet a Heat Pump Really Is
Our fully functioning heat pump showroom will give you a sampling of just how quiet a properly installed heat pump or ductless mini-split operates while filling our showroom with hot or cold air.
Test the Controls
Your new heat pump is only going to remain efficient if you know what settings to use, which is why it's always a good idea to try out any and all controls or remotes. The Kearney team (with the help of Leroy) can show you how to navigate your new heat pump controls and remotes.
Feel the Heat (and the AC)
Seeing the difference is one thing, but we also want you to feel the difference a heat pump can make. See how quickly a heat pump can fill the room with dry, cool air, or cozy warm air, all with the push of a button.
See How Easy Heat Pump Maintenance Is
Generally, heat pumps do not require the same amount of maintenance and care as a central AC and furnace system. Our heat pump professionals can walk you through standard maintenance tasks, like cleaning the air filters.
Did you know:
The air filters on mini-splits are meant to be reusable, meaning you won't have to spend money each month buying an additional replacement air filter!
The Customer Experience at Kearney
Homeowners throughout the North Shore, MA, and Seacoast, NH area might not be jumping for joy every time they need to buy new heating and cooling equipment, but at Kearney, we put the customer experience first, while also maintaining a commitment to using the best in HVAC equipment.
Our goal, whether you are in the showroom planning your next installation, or at home waiting for your new heat pump to be installed, is that you feel:
Empowered to make the right decision in your own time
Comfortable with your financial options
Treated with respect from start to finish
Comfortable in your home!