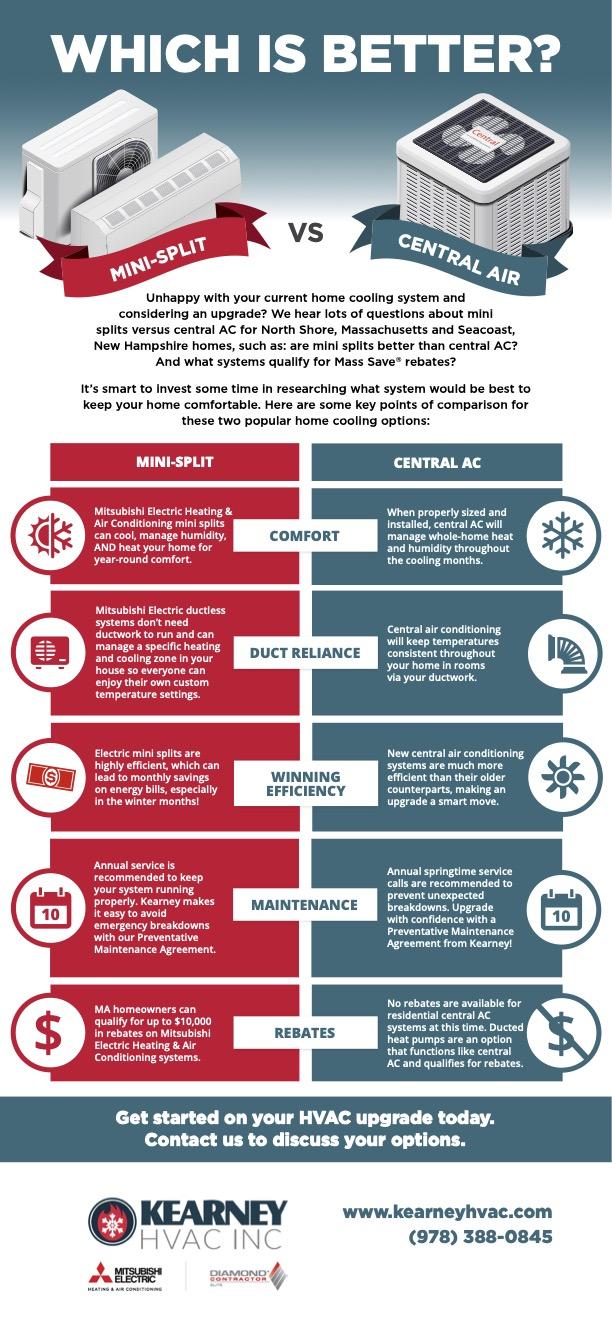 Unhappy with your current home cooling system and considering an upgrade? We hear lots of questions about mini splits versus central AC for North Shore, Massachusetts and Seacoast, New Hampshire homes, such as: are mini splits better than central AC? And what systems qualify for Mass Save® rebates?
It's smart to invest some time in researching what system would be best to keep your home comfortable. Here are some key points of comparison for these two popular home cooling options:
Comfort
Central AC:
When properly sized and installed, central AC will manage whole-home heat and humidity throughout the cooling months.
Mini Split:
Mitsubishi Electric Heating & Air Conditioning mini splits can cool, manage humidity, AND heat your home for year-round comfort.
Duct Reliance
Central AC:
Central air conditioning will keep temperatures consistent throughout your home in rooms via your ductwork.
Mini Split:
Mitsubishi Electric ductless systems don't need ductwork to run and can manage a specific heating and cooling zone in your house so everyone can enjoy their own custom temperature settings.
Winning Efficiency
Central AC:
New central air conditioning systems are much more efficient than their older counterparts, making an upgrade a smart move.
Mini Split:
Electric mini splits are highly efficient, which can lead to monthly savings on energy bills, especially in the winter months!
Maintenance
Central AC:
Annual springtime service calls are recommended to prevent unexpected breakdowns. Upgrade with confidence with a Preventative Maintenance Agreement from Kearney!
Mini Split:
Annual service is recommended to keep your system running properly. Kearney makes it easy to avoid emergency breakdowns with our Preventative Maintenance Agreement.
Rebates
Central AC:
No rebates are available for residential central AC systems at this time. Ducted heat pumps are an option that functions like central AC and qualifies for rebates.
Mini Split:
MA homeowners can qualify for up to $10,000 in rebates on Mitsubishi Electric Heating & Air Conditioning systems.
Get started on your HVAC upgrade today. Call Kearney at 978-388-0845or contact us online to discuss your options.